Angioleiomyoma of the falx
Keywords:
Angioleiomyoma, falx, dural, tumor, benign, extra-axial, neoplasm, intracranial, computed tomography, CT, magnetic resonance imaging, MRI, angiomyoma, vascular leiomyoma, angioma, falcine
Abstract
A 43-year-old man arrived at the emergency department following a syncopal episode. Computed tomography and magnetic resonance images demonstrated a small interhemispheric, anterior parafalcine mass that mimicked a meningioma. Surgical excision and subsequent pathologic evaluation revealed an angioleiomyoma and the patient recovered without incident. Angioleiomyomas are classified as benign smooth muscle tumors and are classically seen in adult females arising in the soft tissues of the lower extremities. Although rare, these masses have been described in various intracranial locations, usually extra-axially. A comprehensive review of the literature and discussion are provided, emphasizing histopathologic and imaging features of this uncommon intracranial neoplasm.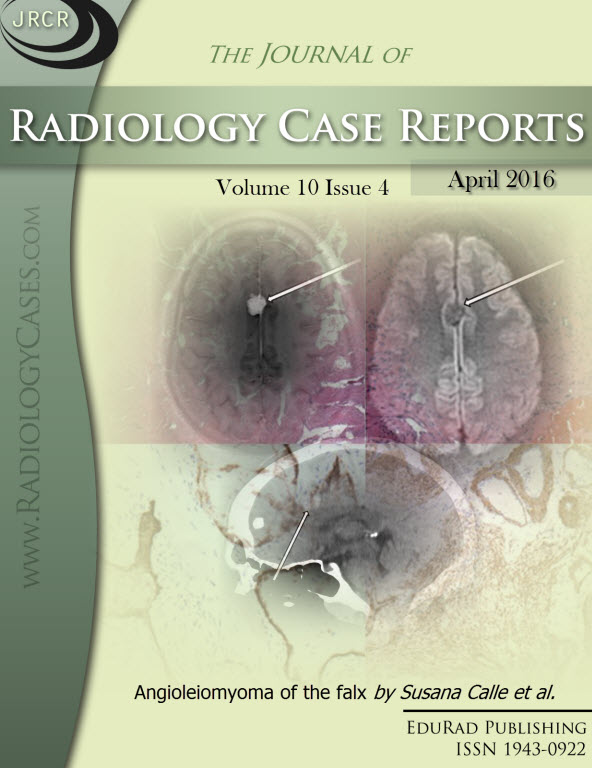 Downloads
License
The publisher holds the copyright to the published articles and contents. However, the articles in this journal are open-access articles distributed under the terms of the Creative Commons Attribution-NonCommercial-NoDerivs 4.0 License, which permits reproduction and distribution, provided the original work is properly cited. The publisher and author have the right to use the text, images and other multimedia contents from the submitted work for further usage in affiliated programs. Commercial use and derivative works are not permitted, unless explicitly allowed by the publisher.