Intracranial Migration of Silicone Delaying Life Saving Surgical Management: A Mimicker of Hemorrhage
Keywords:
Intraocular silicone, intracranial silicone, retinal detachment, Marfan syndrome, intraventricular hemorrhage, intracranial hemorrhage
Abstract
We present a case in which intraocular silicone injection for complex retinal detachment resulted in migration and distribution of silicone along the intracranial visual pathway, and ultimately throughout the ventricular system. Misinterpretation of this material as intracranial hemorrhage on outside computed tomography imaging delayed emergent repair of a Type A aortic dissection until the diagnosis was made on repeat imaging. A discussion of this case and salient computed tomography and magnetic resonance imaging characteristics of silicone is provided.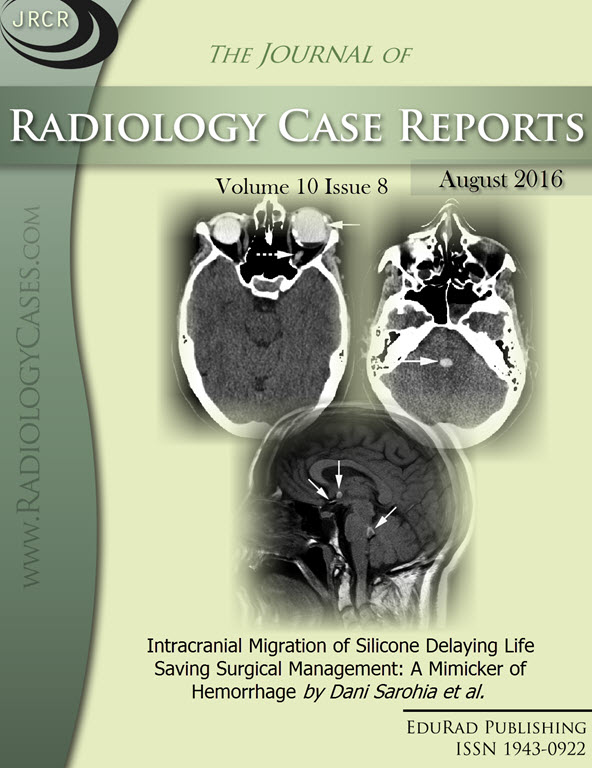 Downloads
License
The publisher holds the copyright to the published articles and contents. However, the articles in this journal are open-access articles distributed under the terms of the Creative Commons Attribution-NonCommercial-NoDerivs 4.0 License, which permits reproduction and distribution, provided the original work is properly cited. The publisher and author have the right to use the text, images and other multimedia contents from the submitted work for further usage in affiliated programs. Commercial use and derivative works are not permitted, unless explicitly allowed by the publisher.