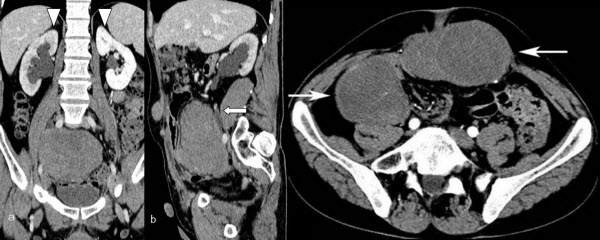 Gardner syndrome complicated with hydronephrosis. A case report.
Paolo Cabassa, Mario Morone, Enza Gatti, Mariapaola Narbone, Roberto Maroldi
Abstract
Gardner syndrome is an autosomal dominant disease characterized by the presence of colonic polyposis, osteomas and soft tissue tumors. We present a case of a man who was admitted for a relapse of adenocarcinoma of the rectum. CT-staging showed multiple locations of desmoid tumors and osteomas, with final diagnosis of Gardner syndrome. The follow-up CT, after surgery and chemotherapy, showed a relapse of the lesions with hydronephrosis due to ureteral compression.
Full Text:
PDF
Full text
Interactive full text